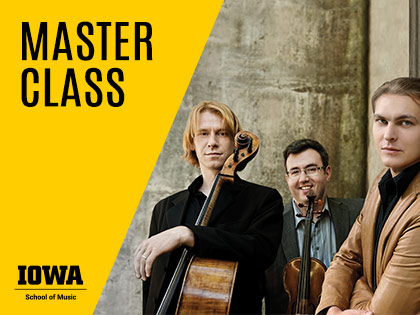 A Master Class with Hermitage Piano Trio
Friday, November 12, 2021,

10:00 am

to

12:00 pm
The members of Hermitage Piano Trio will work with student musicians from the UI School of Music. This master class is free and open to the public to observe.
10:00 am–10:40 am
Genesis Trio
Loeffler: Rhapsody No. 2 for viola, oboe, & piano
10:40 am–11:20 am
Consonant Quartet
Schubert: String Quartet ("Death and the Maiden"); 1st mov.
11:20 am–12:00 pm
Polymnia Trio
Turina: Piano Trio No. 2, Op. 76; 1st & 2nd mov.