CANCELED: An Evening with Judy Heumann: Internationally Renowned Disability Rights Advocate
with Senator Tom Harkin, Champion of the Americans with Disabilities Act
Wednesday, March 30, 2022, 7:30 pm
Due to unforeseen circumstances, the Judy Heumann and Tom Harkin event has been canceled. We hope to reschedule the event for a later date. As information becomes available, we will post it on both the UI Lecture Committee and Hancher websites.

If you have questions, please email: lecture-committee@uiowa.edu
About Judy Heumann
Judy Heumann is a lifelong advocate for the rights of disabled people. She has been instrumental in the development and implementation of legislation, such as Section 504, the Individuals with Education Act, the Americans with Disabilities Act, the Rehabilitation Act, and the UN Convention on the Rights of Persons with Disabilities.
Her memoir, Being Heumann: An Unrepentant Memoir of a Disability Rights Activist, co-authored by Kristen Joiner, was published in 2020. She is also featured in the Oscar-nominated documentary, Crip Camp: A Disability Revolution, directed by James LeBrecht and Nicole Newnham. Judy produces a podcast called The Heumann Perspective, which features a variety of members from the disability community.
Judy serves on a number of non-profit boards, including the American Association of People with Disabilities, the Disability Rights Education and Defense Fund, Humanity and Inclusion, Human Rights Watch, United States International Council on Disability, and Save the Children. She has 20 years of non-profit experience working with various disability organizations, including being a founding member of the a founding member of the Berkeley Center for Independent Living. Prior to starting the Judith Heumann LLC, she served in the Clinton Administration and Obama administrations.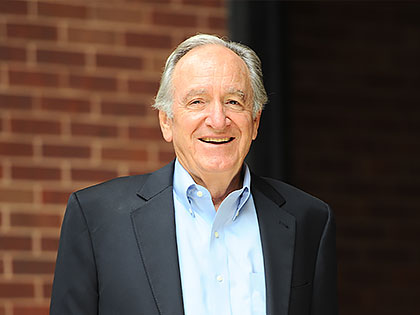 About Tom Harkin
In 1974, Tom Harkin was elected to Congress from Iowa's Fifth Congressional District. His energetic, person-to-person campaign carried the day against an incumbent in a long- standing Republican district. In 1984, after serving 10 years in the U.S. House of Representatives, Senator Harkin challenged an incumbent senator and won. Iowans returned him to the Senate in 1990, 1996, 2002, and 2008. Senator Harkin made history by becoming the first Iowa Democrat to win a consecutive second term in the U.S. Senate, and to date is the longest serving elected Democrat in Congress in Iowa history. He retired from the United States Senate in January 2015.
As a young senator, Tom was tapped by Senator Ted Kennedy to craft legislation to protect the civil rights of millions of Americans with physical and mental disabilities. He knew firsthand about the challenges facing people with disabilities from his late brother, Frank, who was deaf from an early age. What emerged from that process would later become his signature legislative achievement — The Americans with Disabilities Act (ADA).
The ADA has become known as the "Emancipation Proclamation for people with disabilities." The legislation changed the landscape of America by requiring buildings and transportation to be wheelchair accessible, and to provide workplace accommodations for people with disabilities. To preserve the intent of the ADA after several court rulings weakened its standards, Senator Harkin and Senator Orrin Hatch (R-UT) introduced the ADA Amendments bill to ensure continuing protections from discrimination for all Americans with disabilities. It was signed into law in September 2008. For his ongoing and dedicated work to people with disabilities around the world, Senator Harkin was twice nominated for the Nobel Peace Prize.
In September 2009, Senator Harkin became chairman of the Senate Health, Education, Labor and Pensions (HELP) Committee. As chairman, he played a critical role in the passage of the Affordable Care Act. In 2015, Senator Harkin and Ruth Harkin established The Harkin Institute for Public Policy & Citizen Engagement at Drake University in Des Moines, Iowa, to inform citizens, inspire creative cooperation, and catalyze change on issues of social justice, fairness, and opportunity. The Institute works to improve the lives of all Americans by giving policymakers access to high quality information and engaging citizens as active participants in the formation of public policy.
 
Support provided by the following University of Iowa sponsors: Student Government; Department of Health and Human Physiology; LiveWell; Council on Disability Awareness; Division of Diversity, Equity, and Inclusion; Public Policy Center; Donna Parsons Arts and Policy Lecture Series; Center for Human Rights; and Center for Excellence in Developmental Disabilities. Additional support provided by the City of Iowa City.
Individuals with disabilities are encouraged to attend all University of Iowa sponsored events. If you are a person with a disability who requires a reasonable accommodation in order to participate in this program, please contact Hancher in advance at (319) 335-1160.