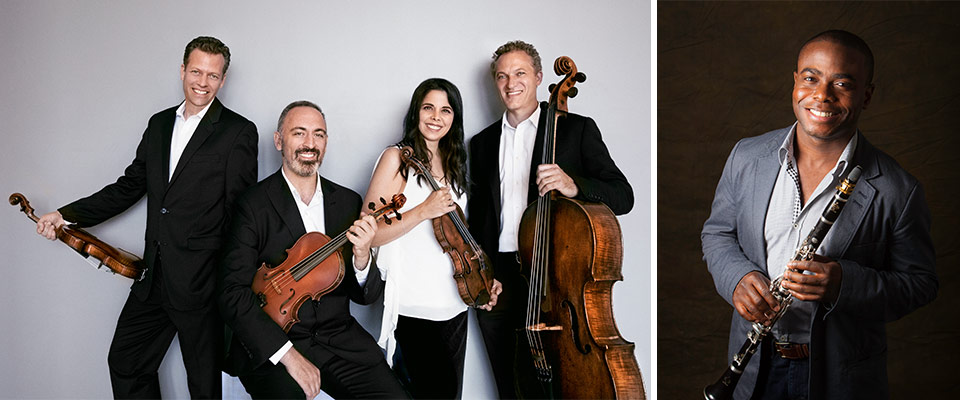 Photo:
Lisa-Marie Mazzucco, David Finlayson
Pacifica Quartet and Anthony McGill, clarinet
Tickets
$5 admission – donations appreciated
Extended through April 7
This event is a collaboration with the University of Iowa's String Quartet Residency Program. The residency is supported in part by funding from the Ida Cordelia Beam Visiting Professorships Program.
Renowned for its brilliant combination of virtuosity and exuberance, the Pacifica Quartet—Simin Ganatra (violin), Austin Hartman (violin), Mark Holloway (violist), Brandon Vamos (cello)—has a topflight musician in every chair. Joined by Anthony McGill, principal clarinet of the New York Philharmonic and an exceptional soloist in his own right, the quartet will perform a concert recorded specifically for the Hancher audience. These spectacular musicians will bring the beauty and depth of chamber music to your home.
 
PROGRAM:
Joaquín Turina: La Oración del Torero, op. 34
Shulamit Ran: Quartet no. 3, Glitter, Doom, Shards, Memory (co-commissioned by Hancher via Music Accord)
Johannes Brahms: Clarinet Quintet in B Minor, op. 115
 
Residency Events
Open to the Public
Thursday, April 1, 2021, 7:00 pm
Individuals with disabilities are encouraged to attend all University of Iowa sponsored events. If you are a person with a disability who requires a reasonable accommodation in order to participate in this program, please contact Paris Sissel in advance at (319) 467-4849 or at paris-sissel@uiowa.edu.