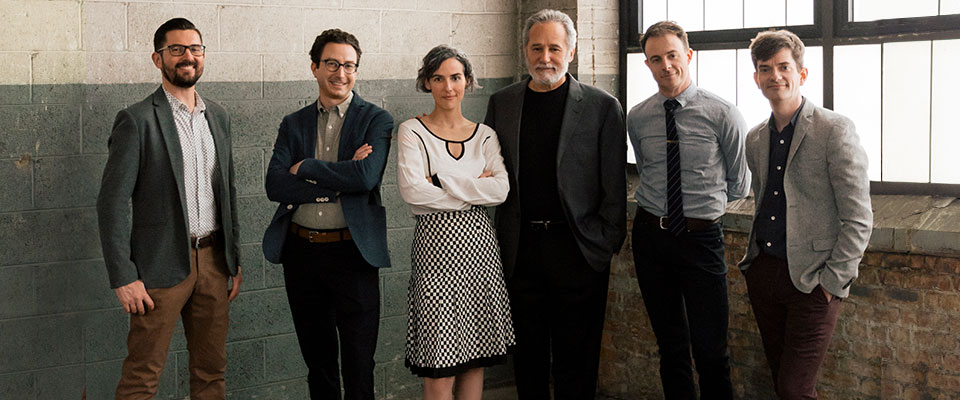 Third Coast Percussion with Sérgio Assad (guitar) and Clarice Assad (vocals, piano, bass guitar, percussion)
Tickets
$5 admission – donations appreciated
Available for viewing through Saturday, May 15 at 11:59 pm. Click "Buy Tickets" to access the concert.
Archetypes considers common symbols that recur throughout the world's disparate myths and legends. From creation stories to apocalyptic narratives, these tales often include recognizably similar characters, as well. This unique blending of musical voices—including the compositional voice of Clarice Assad—will take these stories and characters as a jumping off point for an expansive musical journey that is at once idiosyncratic and universal. Recorded specifically for the Hancher audience, Archetypes will transport you.
Program
The Rebel, by Clarice Assad
The Innocent, by Sérgio Assad
The Orphan, by Sérgio Assad
The Lover, by David Skidmore
The Magician, by Sérgio Assad
The Ruler, by Peter Martin
The Jester, by Clarice Assad
The Caregiver, by Clarice Assad
The Sage, by Robert Dillon
The Creator, by Sean Connors
The Hero, by Clarice Assad
The Explorer, by Sérgio Assad
Individuals with disabilities are encouraged to attend all University of Iowa sponsored events. If you are a person with a disability who requires a reasonable accommodation in order to participate in this program, please contact Paris Sissel in advance at (319) 467-4849 or at paris-sissel@uiowa.edu.