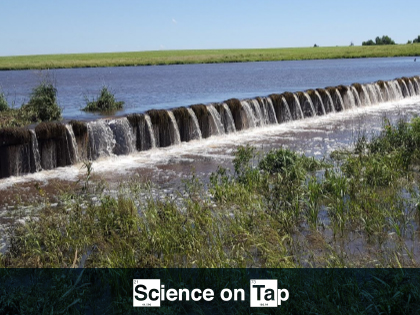 Science on Tap – CANCELLED
Presented by
Hancher

and
UI Research Development Office
Thursday, April 23, 2020,

5:30 pm

to

6:30 pm
Part of the Science on Tap series
In 2016, Iowa received a $96.9 million grant from the US Department of Housing and Development to fund its vision for a more resilient state: The Iowa Watershed Approach (IWA). The goals behind the IWA include reducing flood risk, improving water quality, increasing resilience, engaging stakeholders through outreach and education, improving quality of life and developing a replicable program. This is a 'flood-first' program that focuses on improving rural watershed resiliency through adoption of conservation practices targeting reduction in peak stream flow during heavy rainfall and improve water quality year-round.
Presenter: Larry Weber (Professor, Civil and Environmental Engineering)
Light entrees, snacks, and refreshments will be available for purchase from the Stanley Café.
Individuals with disabilities are encouraged to attend all University of Iowa sponsored events. If you are a person with a disability who requires a reasonable accommodation in order to participate in this program, please contact Paris Sissel in advance at (319) 467-4849 or at paris-sissel@uiowa.edu.