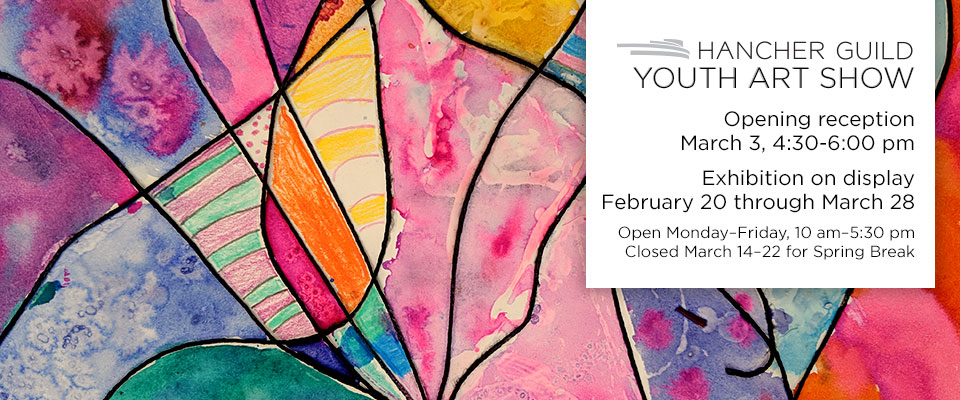 Hancher Guild Youth Art Show
Presented by
Hancher

,
Hancher Guild

, and
Community Schools
Monday, March 23, 2020,

10:00 am

to

5:30 pm
Tuesday, March 24, 2020,

10:00 am

to

5:30 pm
Wednesday, March 25, 2020,

10:00 am

to

5:30 pm
Thursday, March 26, 2020,

10:00 am

to

7:30 pm
Friday, March 27, 2020,

10:00 am

to

5:30 pm
The Hancher Guild Youth Art Show is a longstanding Hancher tradition where we celebrate young artists in our community schools. Starting February 21 and through March 28, the public may view the artwork Monday through Friday, 10:00 am–5:30 pm, and during events (Thursday Nights at Hancher, Hancher performances, etc.). The show will be closed, however, during Spring Break, March 14–22.

Art teachers and their students from the following schools are participating in this year's art show.

Elementary Schools
Archibald Alexander
Norman Borlaug
Coralville Central
Buford Garner
Christine Grant
Hills
Hoover
Ernest Horn
Kirkwood
Helen Lemme
Lincoln
Longfellow
Robert Lucas
Horace Mann
Penn
Regina
Bohumil Shimek
Mark Twain
Van Allen
Irving Weber
Kate Wickham
Willowwind
Grant Wood

Junior High Schools
North Central
Northwest
Regina
South East

High Schools
City
Clear Creek Amana
Liberty
Regina
Elizabeth Tate
West
Sponsored by

Individuals with disabilities are encouraged to attend all University of Iowa sponsored events. If you are a person with a disability who requires a reasonable accommodation in order to participate in this program, please contact Hancher in advance at (319) 335-1160.