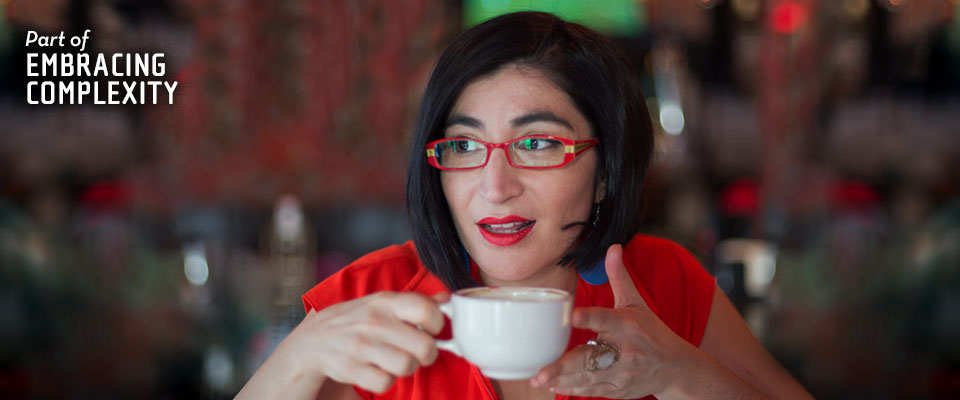 Tickets
ADULT: $40 | $30 | $20
COLLEGE STUDENT: $36 | $10 | $10
YOUTH: $20 | $10 | $10
Part of Embracing Complexity
A self-described "social justice comedian," Negin Farsad has been named one of the 10 Best Feminist Comedians by Paper magazine and one of the 50 Funniest Women by Huffington Post. A regular on NPR's Wait Wait... Don't Tell Me!, she is also the writer, director, and star of the romantic comedy 3rd Street Blackout and the director and producer of Nerdcore Rising and The Muslims Are Coming! While promoting the latter, she sued New York's MTA for the right to put up humorous posters about Muslims. She won. She'll win you over, too.
Following the performance, Farsad will sign copies of her book, How to Make White People Laugh. Prairie Lights will be on hand with copies of the book for sale.
New! Preorder food from the Stanley Café!
Avoid the lines by making your food selections before you come to Hancher Auditorium. The Stanley Café will have staff members ready to get your order—including beverages you order when you pick up your food--fast!
Event Partners:
François M. and Doris E. Abboud
Little Village
Jo Ellen Ross
Residency Events
Open to the Public
Saturday, February 22, 2020, 2:00 pm
News
Some sites may require subscription

The Gazette -
Thursday, February 20, 2020
Muslim comedians and Iranian-Americans are mutually exclusive terms for some people. Negin Farsad is both.

The Daily Iowan -
Wednesday, February 19, 2020
Part of Hancher's "Embracing Complexity" series, political comedian Negin Farsad will speak about her unique craft of creating a TED talk style stand-up routine in order to tackle serious issues.
Individuals with disabilities are encouraged to attend all University of Iowa sponsored events. If you are a person with a disability who requires a reasonable accommodation in order to participate in this program, please contact Paris Sissel in advance at (319) 467-4849 or at paris-sissel@uiowa.edu.