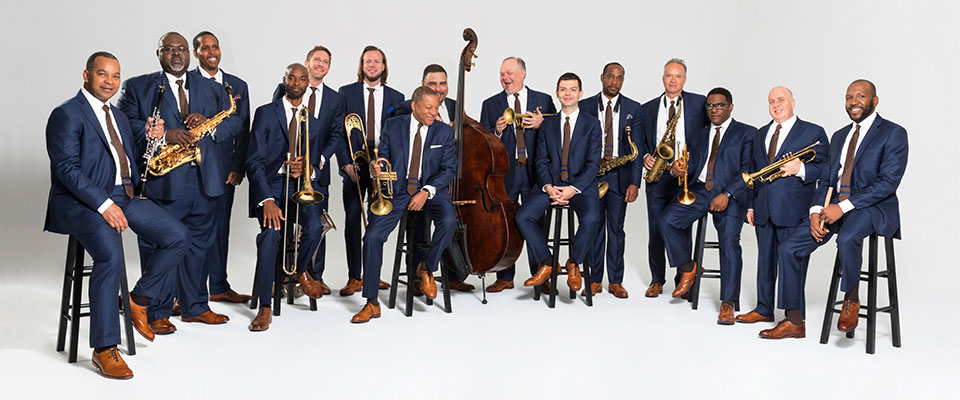 The Jazz at Lincoln Center Orchestra with Wynton Marsalis
Big Band Holidays, featuring vocalists Denzal Sinclaire and Alexis Morrast
Tickets
ADULT: $75 | $65 | $55
COLLEGE STUDENT: $67 | $10 | $10
YOUTH: $37 | $10 | $10
Think of it as our present to you and yours. The Jazz at Lincoln Center Orchestra with Wynton Marsalis returns to inject the jazz into your holidays. This winter, the band will be joined by smooth-as-silk baritone Denzal Sinclaire and teenaged phenom Alexis Morrast, winner of the nationally broadcast Showtime at the Apollo. It's a one-of-a-kind holiday celebration for the whole family.
New! Preorder food from the Stanley Café!
Avoid the lines by making your food selections before you come to Hancher Auditorium. The Stanley Café will have staff members ready to get your order—including beverages you order when you pick up your food--fast!
Event Partners:
Country Bancorp/Bill and Nancy Bernau
Jeff and Sara Braverman
Daryl K. and Nancy J. Granner
Arnold and Darcy Honick
Albert B. and Jean M. Hood
Michael and Chelle Lehman
Meardon, Sueppel & Downer P.L.C. in memory of Margaret T. Lainson
Arthur and Ginger Nowak
Lamont D. and Vicki J. Olson
Alan and Amy Reed
University Housing & Dining
Stephen and Victoria West
West Music
Derek and Pamela Willard
Catherine Zaharis and Robert Michael
Individuals with disabilities are encouraged to attend all University of Iowa sponsored events. If you are a person with a disability who requires a reasonable accommodation in order to participate in this program, please contact Hancher in advance at (319) 335-1160.