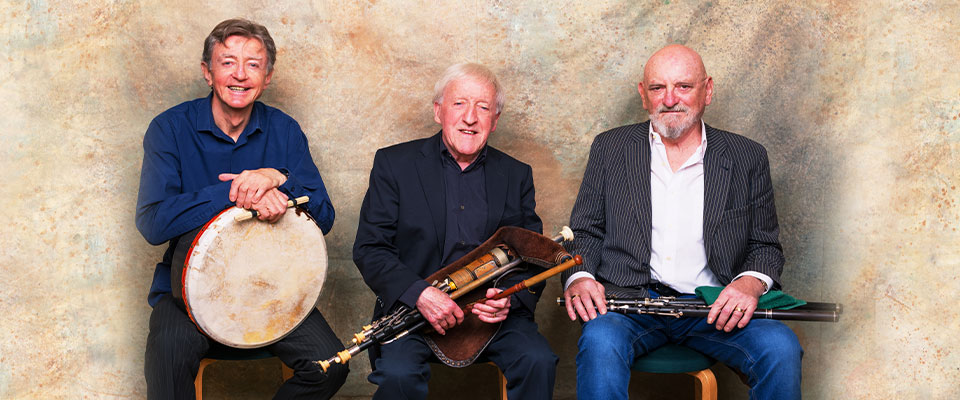 Tickets
ADULT: $65 | $55 | $45
COLLEGE STUDENT: $58 | $10 | $10
YOUTH: $32 | $10 | $10
One of Ireland's most treasured musical ensembles, The Chieftains are six-time Grammy winners and incomparable instrumentalists and innovators who honor and extend the breadth and depth of traditional Irish music. The band's tour of the United States will feature the breathtaking virtuosity for which the group is known. Join us for a trip to the Emerald Isle just in time for St. Patrick's Day.
New! Preorder food from the Stanley Café!
Avoid the lines by making your food selections before you come to Hancher Auditorium. The Stanley Café will have staff members ready to get your order—including beverages you order when you pick up your food--fast!
Event Partners:
Lee and Kazi Alward
Nancy Andreasen and Terry Gwinn
Deborah K. and Ian E. Bullion
GreenState Credit Union
Casey D. Mahon
Gary and Nancy Pacha
David and Noreen Revier
Tallgrass Business Resources
RUNNING TIME: 1 hour, 30 minutes (no intermission)
News
Some sites may require subscription

The Daily Iowan -
Wednesday, March 4, 2020
Grammy Award-winning Irish folk band The Chieftains lit up Hancher on Wednesday night with traditional Irish music and dancing.

The Daily Iowan -
Wednesday, March 4, 2020
A pitch from Paddy Maloney's small tin whistle filled Hancher auditorium, light and fluttery, as his seat was lit by an overhead light on stage. One by one, instruments joined Maloney in his tune, and Grammy Award-winning Irish folk band The Chieftains made their presence known.

The Gazette -
Monday, March 2, 2020
The traditional Irish band has sold millions of albums, won six Grammy Awards and an Oscar for the soundtrack of Stanley Kubrick's "Barry Lyndon." Ireland's musical ambassadors are among the most well-respected bands of the past century.
Individuals with disabilities are encouraged to attend all University of Iowa sponsored events. If you are a person with a disability who requires a reasonable accommodation in order to participate in this program, please contact Hancher in advance at (319) 335-1158.