Hancher's Culinary Arts Experience
Hancher Culinary Arts Experience: Oasis
Hancher Culinary Arts Experience presents a special evening with a local favorite, Oasis Falafel. Owners and friends Naftaly Stramer and Ofer Sivan created Oasis—The Falafel Joint in the summer of 2004 when they noticed a lack of falafel and Mediterranean food in the Iowa City community.
Join us at 5 pm for a social hour with Mediterranean hors d'oeuvres, followed by a decadent meal featuring all of your favorites — plus some exclusive, one-night-only, special additions — from the chefs at Oasis.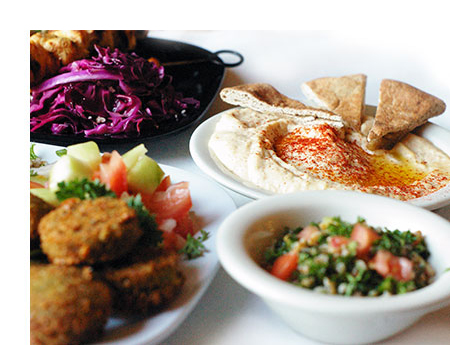 The "Chickpea bar" will feature Oasis' signature salads, real feta cheese, and split pea soup. On the buffet you will find meatballs, kebabs and couscous. And the "Oasis table" will feature Moroccan eggplant, baba ganoush, and tabbouleh. Tables will be set with pickled vegetables, labneh, mango curry, tahini, and pita. Dessert will feature a chef's favorite rice pudding parfait.
Tickets must be purchased by March 1 through the Hancher Box Office.
Ticket price includes dinner, non-alcoholic beverages, tax, and gratuity.
Capacity is limited.
Individuals with disabilities are encouraged to attend all University of Iowa sponsored events. If you are a person with a disability who requires a reasonable accommodation in order to participate in this program, please contact Hancher in advance at (319) 335-1160.