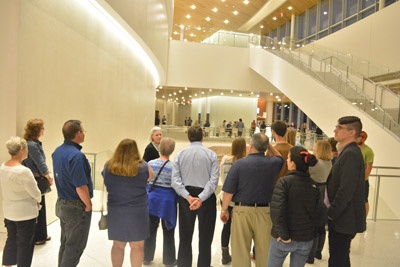 The Hancher Guild offers a public tour of Hancher Auditorium occasionally at 10:30 on a scheduled Wednesday morning and at 5:30 on a scheduled Thursday evening. Meet in the lobby prior to a tour's scheduled time, and a Guild member will greet and guide you or your small group through Hancher's facilities. Reservations are not required for public tours; however, a group of ten or more people making plans to take a public tour should notify Hancher in advance. Contact information is provided at the bottom of this page.

WEDNESDAYS  ·  10:30 am
January 22
April 1 & 8
May 6 & 20
June 3, 10, & 17
The Hancher Showcase will be open too.

THURSDAYS  ·  5:30 pm
March 12
April 9
May 7
Stay for Thursday Nights at Hancher.
---
Private Tours for Groups
A private tour for a group may be requested by contacting tim-meier@uiowa.edu. The minimum number in a group is ten people and the maximum number is 40. A larger group may be accommodated by separating into smaller groups, each touring Hancher simultaneously.

Private tours may occur Monday through Friday, between the hours of 10:30 a.m. and 4:00 p.m. Tours will not be given on weekends and university holidays.

An advance notice of at least ten business days is necessary to coordinate a tour. Please understand if a tour cannot be added to the Hancher calendar due to previously scheduled rehearsals, performances, educational programs, stage setup, receptions, building maintenance, and other daily and nightly activities.
---
Tour Information
All Hancher tours are free.

Your tour guide will be a volunteer from Hancher Guild and will greet you in Smith Lobby, the starting point for all tours.

A tour takes approximately one hour and usually includes Smith Lobby, Strauss Rehearsal Hall, backstage, Hadley Stage and Hancher Auditorium, and Stanley Café.

Hancher was designed to be fully accessible to all members of the community.

A fun, interactive handout for youth is available upon request.

The minimum age recommended to enjoy our tours is eight years old.

Please do not bring beverages and food with you when visiting and touring Hancher.