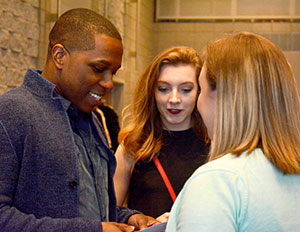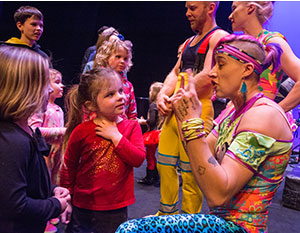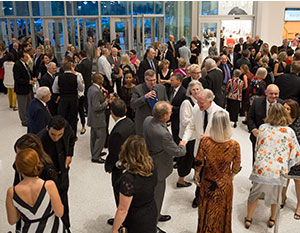 Who We Are:
Do you want to meet others who share your passion for the performing arts? Do you want to make an impact on the future of the performing arts at the University of Iowa? Join Hancher Prelude as a founding member!
Prelude is a social group dedicated to fostering the next generation of Hancher supporters.  Your individual gift of $125 is your key to at least three private events* through the current Hancher season, including pre-show happy hours, family-friendly events as well as backstage access to casts and performers.  If you are an Aspiring Hancher Circle** donor already, you're automatically a member! Otherwise your contribution to Hancher's Prelude Fund at the University of Iowa Center for Advancement will also provide for additional programming in the future and is your first taste of what it's like to be a Hancher supporter.
Looking ahead to this season, we have three events planned for our Prelude members:
Friday, October 4: A backstage after-party following the Broadway musical RENT 
Tuesday, March 10: A backstage after-party following the performance by the internationally acclaimed Alvin Ailey American Dance Theatre
TBD: A special experience to be announced at a later date

Additionally, for Broadway performances with multiple nights, the Prelude Advisory Board encourages you to choose the Friday night performance. This will allow for informal gatherings of members who attend those performances.


 
How it works: 
Gifts made to the Hancher Prelude Fund during the current giving year (July 1 through June 30) will qualify contributors for membership throughout the following Hancher performance season. 
To join as a Prelude member, click here to give your $125 per person gift to the Prelude Fund.
Questions? Ask any of us or Devin van Holsteijn, Associate Director of Development for Hancher at the Center for Advancement. His email address is devin.vanholsteijn@foriowa.org and his phone number is (319) 467-3658.
 
Advisory Board
Taylor Blazek

Kenny Borchard

Nike Fleming

Matt Getz

Jessica Tucker Glick

Anne Matthes

Charlie Nusser

Sarah Russett

Elliott Sohn

Matt Steele

Mauro Villanueva

Brett Watson

Bryan Watson
 
* Events are subject to change. To join Prelude, each adult member of a household must make a $125 gift annually.
** The Aspiring Circle levels recognize gifts made by patrons age 35 and younger.