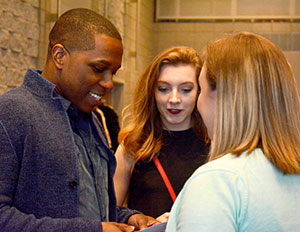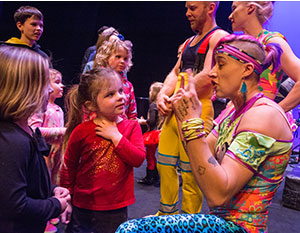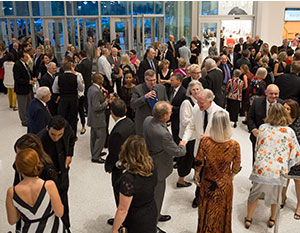 Who We Are:
Do you want to meet others who share your passion for the performing arts? Do you want to make an impact on the future of the performing arts at the University of Iowa? Join Hancher Prelude as a founding member!
Prelude is a social group dedicated to fostering the next generation of Hancher supporters.  Your individual gift of $125 is your key to at least four private events through the 2017-18 Hancher season, including pre-show happy hours, family-friendly events as well as backstage access to casts and performers.  If you are an Aspiring Hancher Circle donor already, you're automatically a member! Otherwise your contribution to Hancher's Prelude Fund at the University of Iowa Foundation will also provide for additional programming in the future and is your first taste of what it's like to be a Hancher supporter.
We want to see you at our first event on September 14th. We'll be hosting an exclusive pre-performance party in the Strauss Rehearsal Hall before Leslie Odom Jr. takes the stage out on the lawn later that evening. We might even get lucky enough to meet the man himself!
How it works: 
Gifts made to the Hancher Prelude Fund during the current giving year (July 1 through June 30) will qualify contributors for membership throughout the following Hancher performance season. Because this is our founding year, we want to make it extra special and give you membership during the founding season and then next season as described above!
To join as a founding member, click here to give your $125 per person gift to the Prelude Fund.
Questions? Ask any of us or Devin van Holsteijn, Assistant Director of Development for Hancher at the Foundation. His email address is devin.vanholsteijn@foriowa.org and his phone number is (319) 467-3658. 
 
Founding members: 
Elena and Henry Archuleta

Taylor Blazek

Jessica Tucker Glick

Anne Matthes

Sarah Russett

Elliott Sohn

Matt Steele

Simeon Talley

Brett and Bryan Watson