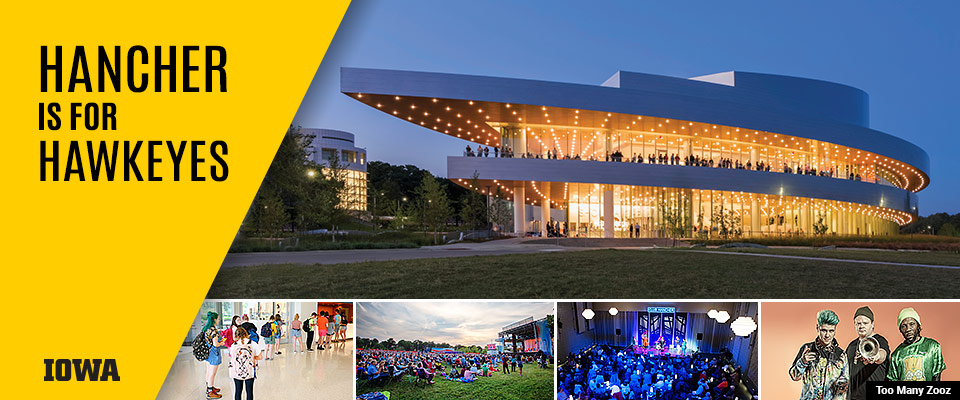 A Ticket Sale for UI Students 
Tickets
$5 for UI students to select performances
Monday, August 22, 2022,

10:00 am

to

5:00 pm
Tuesday, August 23, 2022,

10:00 am

to

5:00 pm
Wednesday, August 24, 2022,

10:00 am

to

5:00 pm
Thursday, August 25, 2022,

10:00 am

to

5:00 pm
Friday, August 26, 2022,

10:00 am

to

5:00 pm
We can't wait to welcome UI students to Hancher Auditorium for our 50th anniversary season! And this year, we're making it easier than ever for you to take advantage of our special Hancher is for Hawkeyes sale.
During the week of August 22 through August 26, you can purchase $5 tickets to many Hancher events by visiting the Hancher Box Office any time between 10 am and 5 pm or by ordering online using promo code 4HAWKEYES.
If you purchase your tickets in person during Hancher is for Hawkeyes, you will receive some Hancher swag – including a Hancher season cup that can be used to purchase beverages at the auditorium that you can enjoy during performances. 
$5 UI student tickets are available for the following performances:
Too Many Zooz
Friday, August 26, 7:30 pm

Soweto Gospel Choir
HOPE: It's Been a Long Time Coming
Thursday, September 29, 7:30 pm

Aaron Diehl and Brandon Patrick George
Songs of Black America
Friday, October 14, 7:30 pm

Brentano String Quartet and Dawn Upshaw
Dido Reimagined
Tuesday, October 25, 7:30 pm

Cantus
Thursday, December 1, 7:30 pm

Pilobolus
Big Five-Oh!
Saturday, February 4, 7:30 pm

Kronos Quartet
At War With Ourselves – 400 Years of You
Saturday, February 11, 7:30 pm

Dan + Claudia Zanes
Let Love Be Your Guide 
Saturday, February 18, 2:00 pm

Academy of St Martin in the Fields
Thursday, March 2, 7:30 pm

Club Hancher: Alexa Tarantino Band
Wednesday, March 8, 6:30 & 9:00 pm

Club Hancher: Isaiah J. Thompson Quartet
Thursday, March 23, 6:30 & 9:00 pm

Club Hancher: Vuyo Sotashe Group
Saturday, March 25, 6:30 & 9:00 pm

Conor Hanick (piano)
with Keir GoGwilt (violin) and Jay Campbell (cello) 
Friday, April 14, 7:30 pm

Emerson String Quartet
Friday, April 21, 7:30 pm
All other events on the Hancher season are available to UI students at standard discount levels. See the full season here.
Individuals with disabilities are encouraged to attend all University of Iowa sponsored events. If you are a person with a disability who requires a reasonable accommodation in order to participate in this program, please contact Hancher in advance at (319) 335-1160.