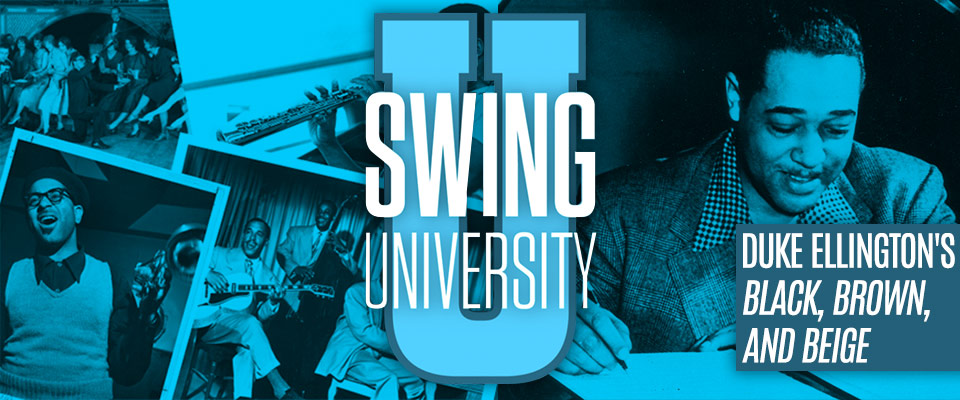 Duke Ellington's "Black, Brown, and Beige"
Part of United We Swing: Jazz and American History
Tickets
Free admission – donations appreciated
Entering Carnegie Hall in January 1943, composer, bandleader, and pianist Duke Ellington unveiled a unique and remarkable work that defied existing notions of what Jazz could or should be. An epic 50-minute "tone parallel" that bore witness to African-American history, the work also stood as a profound declaration. We will be joined by a special guest from the Jazz at Lincoln Center Orchestra to delve into this masterpiece.
Part of the United We Swing: Jazz and American History series presented by Jazz at Lincoln Center.
Below are Seton's notes to accompany his conversation on Duke Ellington. Click on the provided YouTube and Spotify links to listen while you read!
Duke Ellington's Black, Brown, and Beige
Premiering in 1943, and receiving a Carnegie Hall debut on January 23, 1943, Duke Ellington's Black, Brown, and Beige represented a landmark achievement in Ellington's writing and in American music. An ambitious and sprawling 50-minute work, the piece offered a programmatic depiction of African-American history told through music rooted in African-American musical idioms. While Duke had not written a work of this magnitude before (or after), we do see some hints of his extended works in the years leading up to it.
Precedents?
Reminiscing in Tempo – 1935
A heart-wrenching memorial to Duke's mother, Reminiscing in Tempo was a four-part work, released as such to accommodate the technological limitations of the records of the day.
Symphony in Black – 1934
This movie short for Paramount gave Duke an opportunity to write material unconstrained by the limitations of the records of the day. In Symphony in Black, recorded in late 1934 (released in 1935), we see Duke writing a multi-movement work that also had programmatic elements. Additionally, we see him using music to bear witness to aspects of black life and black history within this work.
Black, Brown, and Beige
The work breaks down into three movements, each representing a different part of black history in America. "Black" (first movement) represents the antebellum South; "Brown" represents the late 19th to early 20th centuries, post Emancipation. Finally, "Beige" represents the present for Black Americans (the present being 1943 in this piece). Each work then divides into smaller sections.
Listen:
Jazz at Lincoln Center Orchestra performance (2018): www.jazz.org/bbb

Duke Ellington's 1943 Carnegie Hall performance:

Duke Ellington's 1958 version (significantly changed from 1943) with Mahalia Jackson
Watch:
Individuals with disabilities are encouraged to attend all University of Iowa sponsored events. If you are a person with a disability who requires a reasonable accommodation in order to participate in this program, please contact Paris Sissel in advance at (319) 467-4849 or at paris-sissel@uiowa.edu.